The WA Performance School presents… APRIL SCHOOL HOLIDAY WORKSHOPS!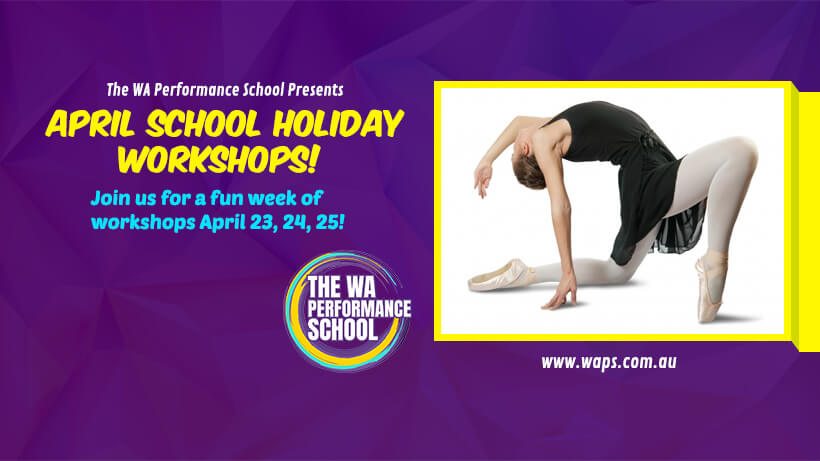 Join us for a fun week of workshops and taster classes for kids of all ages in the April School Holidays 2019!
Participating in school holiday workshops is a great way to make new friends, try new styles of dance or performance, and to help get kids excited for the next term of dancing! Over the April school break we have the following exciting workshops scheduled, open to all children whether you are a WAPS student or have never even danced before!
At WAPS our school holiday workshops are divided into age groups (not ability levels) and we are excited to offer classes for Tinies (2-5yrs), Pre Juniors (5-7yrs), Juniors (7-10 yrs) and Intermediation/Seniors (11 yrs+). Bring along a friend and join The WA Performance School an unforgettable week of workshops!
We spoke to one of our instructors, Miss Sarah, for her best advice on how to make the most out of a dance workshop, regardless of your age or experience…
"Workshops are a great opportunity for dancers of all experience levels (even beginners) to educate themselves further in a dance style they may be interested in! Not to mention they're a great chance to meet new people and make new friends as well. If I could recommend anything to get the most out of these workshops, or any other workshops you might be trying, it would be the four tips below!"
1. Make sure you give it all you have, and be prepared to make mistakes – they help you learn.
2. Smile and introduce yourself to others, especially if you see someone who seems a little lost or maybe shy. Being kind makes for a better and more positive learning environment for everybody!
3. Ask questions! Especially when it comes to new technique or skills you may not be familiar with. Someone else in the room might be thinking the exact same thing.
4. Don't be nervous! Take three deep breaths, and remember that every other student is in the same position as you.
WAPS April School Holiday Workshops
Tuesday April 23rd Tiny and Pre-Junior Workshop Day (2-7yrs)
10.00am-10.30am Tiny Singing and Drama (2-4yrs) $15
10.40am-11.10am Tiny Ballerinas (2-4 yrs) $15
11.20am-11.50am Little Groovers (3-5 yrs) $15
12.00pm-12.45pm Pre-Junior Taster Session (5-7 yrs) $20
Try jazz, tap, hip hop and ballet – no special shoes required!
Wednesday April 24th Junior Workshop Day (6-10 years)
10.00am – 11.00am Acro/Cheer $20
11.00am – 12.00pm Modern Jazz $20
12.30pm – 1.30pm Lyrical/Contemporary $20
1.30pm – 2.30pm Hip Hop $20
2.30pm – 3.30pm Musical Theatre – Singing, Dance & Drama! $20
Thursday April 25th Intermediate/Senior Workshop Day (11-17 years)
10.00am – 11.00am Acro/Cheer $20
11.00am – 12.00pm Hip Hop $20
12.30pm – 1.30pm Modern Jazz $20
1.30pm – 2.30pm Lyrical/Contemporary $20
2.30pm – 3.30pm Musical Theatre $20
Enrol in 2 workshops and receive 5% off tuition, or enroll in 3 or more workshops and receive 10% off!
Places are limited, book today! Email dance@waps.com.au or call (08) 9388 6970.
Find out more about us at www.waps.com.au
Note: While online enrollment will be available for these workshops, WAPS admin staff will need to manually process any eligible discounts before you make your payment. All payment is due as cleared funds a week prior to the workshops in order to secure your place.