Winter 2019 School Holiday Workshops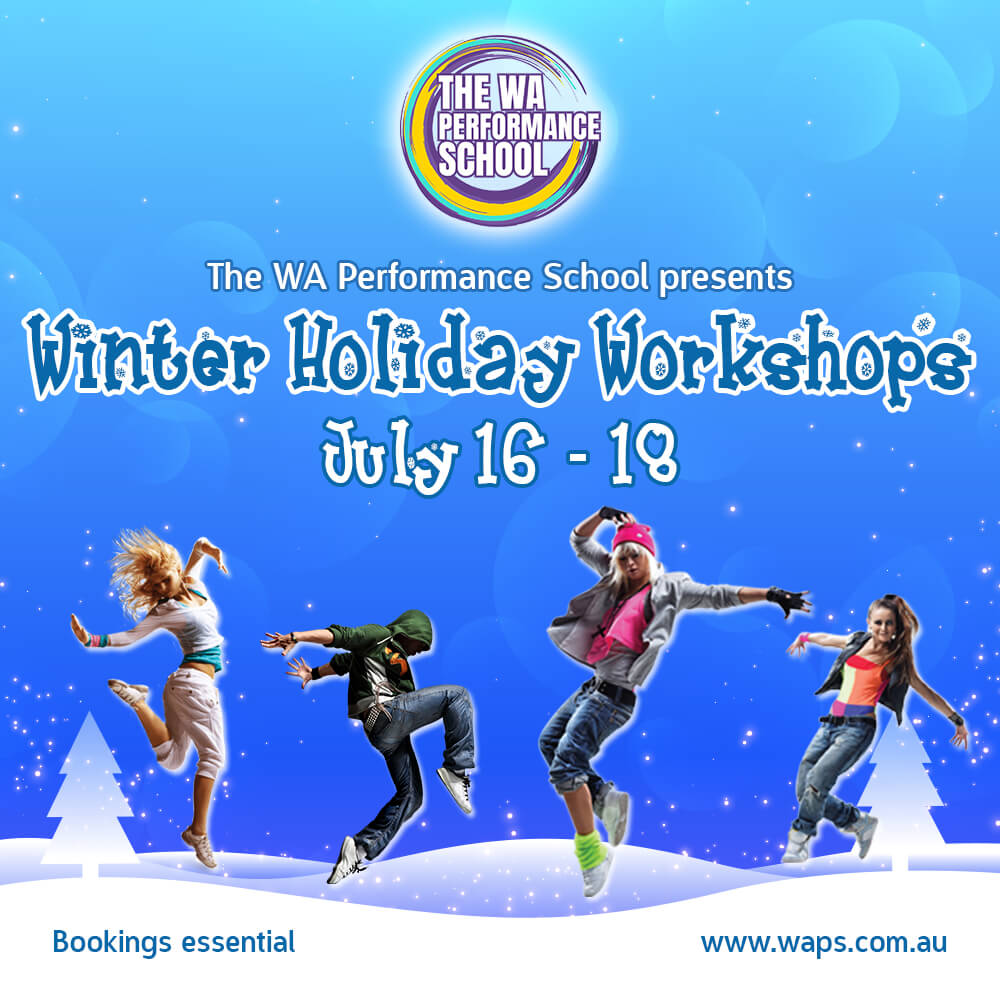 Join us for fun and friendly workshops and taster classes for kids of all ages in the July School Holidays 2019, at The WA Performance School, Subiaco.
Participating in school holiday workshops is a great way to make new friends, work with new guest instructors, try new styles of dance or performance, and to help get kids excited for the next term of classes! Over the winter break we have the following exciting workshops scheduled, open to all children, whether current WAPS students or not.
With options for Kindy (3-5 years) students, Pre-Junior (5-7 years), Junior (7-10 years), Intermediate (11-13 years) and Senior (13-17 years), there's something fun for everyone to try! Plus, book in for 2 workshops and receive 5% off tuition, or book in for 3 or more workshops and receive 10% off!
Tuesday 16th July
12.00-1.00pm Open (Junior-Intermediate) Cheerleading & Acro Dance $20
Wednesday 17 July
10.00-10.30am Tiny Ballerinas (Kindy) $15
10.30-11.00am Little Groovers (Kindy) $15
11.00-11.30am Tiny Singing & Drama (Kindy) $15
12.00-12.45pm Pre-Junior Taster Workshop (Pre-Junior) $20
1.00-2.00pm Modern Jazz (Junior) $20
2.00-3.00pm Hip Hop (Junior) $20
3.00-4.00pm Lyrical/Contemporary (Junior) $20
Thursday 18th July:
12.00-1.30pm **Special Musical Theater Masterclass with Jamie Papanicolaou (UK)** Open Age (Junior-Senior) $25: See below for more information about this special workshop.
2.00-3.00pm Modern Jazz (Intermediate/Senior) $20
3.00-4.00pm Hip Hop (Intermediate/Senior) $20
4.00-5.00pm Lyrical/Contemporary (Intermediate/Senior) $20
**Meet our world-class instructor Jamie Papanicolaou, joining us all the way from the U.K. for a wonderful 90 minute Musical Theater workshop! Jamie has performed in shows on London's West End and is a respected dancer, actor and singer with a passion for performance, production and teaching. Don't miss your chance to participate in a special masterclass with this wonderful international instructor, who will also be taking Senior workshops in Modern Jazz, Hip Hop and Lyrical/Contemporary.**
Bookings can be made online via the enrollment portal, or simply contact us.
Registration is essential and payments are due 10th July in order to secure your place.
If you have any questions, please contact our friendly reception team on (08) 9388 6970 or email dance@waps.com.au.
Note: While online enrollment will be available for these workshops, WAPS admin staff will need to manually process any eligible discounts before you make your payment. All payment is due as cleared funds a week prior to the workshops in order to secure your place.