Create Your Own Variety Show!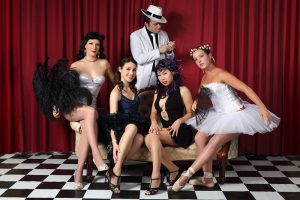 Can't decide which theme to have? Why not have them all and create your own variety show? You pick which acts you want from each theme and we'll work out a customised package to suit your needs. Or alternatively, tell us the crazy theme you have in mind and we will put together a special show just for you. Guaranteed to be a unique and entertaining show for you and your guests!
Duration of the show can be as long or short as you want!
For more information and to see what different variations you can have with this show, please contact us today!
The themes we work with are endless! The only limitation is your imagination! A part from the popular themes above, here are some ideas of other themes we can do:
Circus
Multi-cultural
Roaring Twenties / Gangsters & Flappers
40's/50's Swing Jazz
Arabian / Harem
Retro / Glamour
Wild West / Cowboys
Tribal
60's Go-Go
Occupations (Air hostesses, secretaries, doctors/nurses etc)
Under the Sea
Horror / Halloween
Military
Royalty / Renaissance
Cheerleaders
70's Disco
Superhero
80's Rock
Cartoon Characters
Oriental
Hollywood
Dance Spectacular
Fashion Parade
Message Us