Fringe in Full Swing!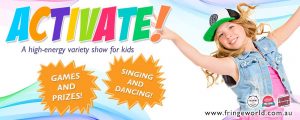 Our students have been rehearsing hard over the holidays for two fantastic Fringe productions this year – Peter Combe's Bellyflop in a Pizza, and our very own show – ACTIVATE!
Activate opens TODAY, with another show on Friday 27th Jan, and is jam-packed full of energy and entertainment for the whole family. Get moving, dancing, singing and grooving with our team of Activators, featuring staff and students from The WA Performance School. We have games, with prizes up for grabs, as well as a fun and important story to tell too.
Tickets are available online here – but get in quick before they sell out!