Golden Era/Silver Screen Entertainment Packages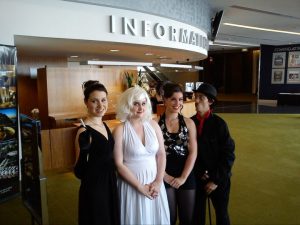 Golden Era, Silver Screen Entertainment Packages
Perfect for a conservative crowd but still designed to be entertaining. This theme showcases the best of a bygone era, taking you on a journey through time from 1920's through to the 1970's. You will be accompanied by Silver Screen legends such as Marilyn Monroe, Elvis Presley, Charlie Chaplin, Audrey Hepburn & more. Blending perfectly with comedy acts as well as song & dance numbers by 1920's Charleston Flappers, 60's GoGo Starlets, 70's Disco Divas and everything in between!
Duration of the show is generally 1.5 hr long, however it can be extended or shortened as per your entertainment and budget requirements.
For more information and to see what different variations you can have with this show, please contact us today!
Message Us