Performer Diary: Sylvia at PIAF
Performer Diary: Sylvia at PIAF
Manager and music teacher Miss Sylvia has shared with us some thoughts about her recent performance at the Perth International Arts Festival closing weekend!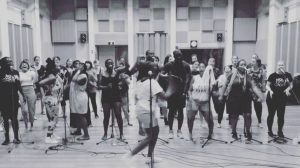 Sylvia was one of just 27 local singers from a total of 70 who auditioned for the chance to perform onstage alongside the House Gospel Choir, an ensemble established for just two years, which has already performed at Buckingham Palace and even Glastonbury! The choir is known for their amazing gospel renditions of popular house music hits, with an unbeatable energy and infectious enthusiasm that has audiences dancing and singing all over the world.
WAPS: What song did you perform for your audition video?
Sylvia: I actually chose to perform a slower accoustic version of Bulletproof by La Roux. If it seems familiar, that's because my Senior Singing & Vocal class performed it at the 2015 WAPS concert! The call-out was looking for performers who loved music and made it a huge part of their lives. I thought what better way to show the choir what music meant to me than by showing them what I'd been working on with my fantastic teen singers! 
WAPS: What was involved in participating in this performance?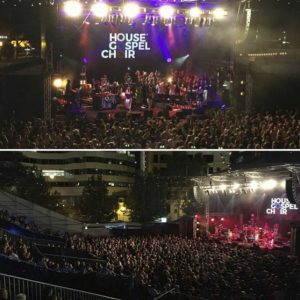 Sylvia: The London HGC team arrived in Perth a week before the PIAF closing weekend, and we spent five weekdays working very hard on rehearsals at the ABC TV studios in East Perth. We rehearsed for at least 3 hours a night, including full warm-ups and even exercise routines! The show is such an energy intensive one, with such long sets, that we had to get used to moving and giving 110% for hours. The day of the first show, we also had a final rehearsal with the London HGC and the live band, as well as a tech run before the doors opened to the public.
WAPS: Was there anything that surprised you about the rehearsal or performance process?
Sylvia: I was blown away when us Perthies walked into our first rehearsal with HGC London and every single one of us received a hug from each London choir member! I was even more surprised when choir director ShezAr then conducted a 'name game' (much like we do in our theatre classes at WAPS!) and actually remembered every single choir member's name within the evening. It helped us instantly form a bond and over the week we grew to be one big, singing, dancing family and we are still all in touch now! It really helped us bond. Finally, I was surprised by the amazing standard of the facilities at PIAF. The stage, technical staff, catering staff, and backstage areas were mindblowing. It was such an honour to be backstage as part of such a huge and professional production. Unforgettable!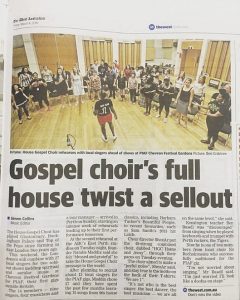 WAPS: Do you have a favourite song from the show?
Sylvia: The "Home" Team (the locals) performed for half of the full set, whilst the "Away" Team (HGC London) performed the first half without us. Their set was so amazing and perhaps my favourite number from their set was 'Gecko (Over Drive)' originally by Oliver Heldens, featuring mindblowing solo work by Kersha Bailey, who is totally my idol now. Probably my favourite number that we all performed together was 'Red Alert' originally by Basement Jaxx. I danced my little heart out and it was such an awesome an energetic number. Oh my gosh I almost forgot – our encour was the most incredibly arranged version of Disclosure/Sam Smith's 'Latch'. It sent shivers down my spine. Truly an honour to be a part of that.
WAPS: Did the choir perform any traditional gospel numbers?
Sylvia: Yes! HGC Away performed 'Maybe God is Trying to Tell You Something', and together we performed 'Ride On King Jesus' and 'Why We Sing'. Even the slower songs featured amazing harmonies and infectious energy. You can catch snippets from the traditional gospel numbers on this video.
WAPS: Did you learn anything from this experience that you'll be sharing with your WAPS music students?
Sylvia: Most definitely! The way ShezAr conducted her rehearsals was so inspiring – her energy is unstoppable, and I would love to even remotely approach her level as an ensemble director one day. The warm-ups we did were presented in such a unique and energetic way, and coming from a classical music background, my eyes were really opened when it came to performance styles. Not only were we performing house music (so lots of dancing and jumping!) but the gospel style meant that all the emotion and energy had to be turned up 200%!