Hip Hop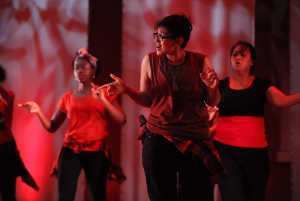 About Hip Hop
Hip Hop is a funky street style of dance with loads of energy, attitude and groove. You'll learn the latest dance moves and combinations as seen on music videos and online (such as those
by Rihanna, Neyo and Beyonce) and dance movies (such as Step Up and Honey). Hip Hop is just as much about the attitude and sass of dancers as it is about the moves, and it's a style that everyone can really make their own.
This exciting class will combine moves from hard-hitting hip hop to smooth lyrical styles to help you discover muscles and body isolations you never knew you had!
What to Wear
Non-restrictive clothing is best for hiphop class. Loose-fitting track or cargo pants, with comfortable tops (t-shirt, hoodies, tank tops, singlets, off-shoulder tops etc). Sneakers preferred. No jazz shoes or blochs please. This class is all about the groove and attitude, so it is important that dancers dress the part so they can feel the part.
CLASS TIMES & COSTS
Find out more about the class schedule, term dates, costs, and enrolment options by visiting our Timetable page.
Image Gallery
Message Us