The Burlesque Series Six Week Courses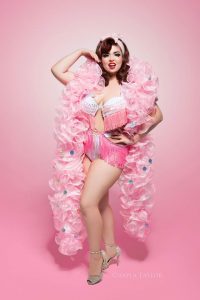 About 'The Burlesque Series' Six Week Courses
There is more to burlesque than the saucy vintage tease – explore more of the elements that make good performers GREAT with our ever-changing selection of short courses!
These six week courses are a great option for beginners or for more established performers looking to set themselves apart. Students have the unique opportunity to work with Miss Burlesque Western Australia 2016 Sugar du Joure in an energetic and intimate learning space. The courses cover choreography as well as characterisation, dancing with props, costume construction, development of your stage name and character, as well as the chance to perform at a real cabaret show (completely optional).
Check the timetable to find out when the next course will be running.
What to Wear
Comfortable clothing you can move freely but feel sexy in. For example, jazz pants, leggings, T-shirts, singlets, off-shoulder tops, etc. Bring a pair of dance heels with ankle straps/support. You may wear sneakers until you are comfortable dancing in heels. Later classes may encourage you to bring in your costume and prop items.
CLASS TIMES & COSTS
Find out more about the class schedule, term dates, costs, and enrolment options by visiting our Timetable page.
Gallery
Message Us