Why Learn to Sing?
Why Learn to Sing?
1. Be Versatile
You may have heard the term "triple threat" mentioned in performing arts circles and wondered what that means. A triple threat performer is an individual who can dance, act and sing – adding voice to your list of skills can be an invaluable way to set yourself apart from other perfomers, and can make the difference between missing out on a part in an audition, or getting the star role! Dancers and actors who have strong, trained voices, stand out onstage and off, with more opportunities open to them: Triple Threats can find themselves starring in musical theatre shows, or scoring cruise ship contracts!
2. Tune up your Technique
Singing class does not stop at repertoire. Your vocal instructor will help you develop your posture, breath control, diction, and projection – all of which are important for actors, in a musical theatre context, and even in public speaking and debating.
3. Know your Music Theory
A basic understanding of music theory not only helps you unlock the secrets of your favourite pieces of music, but is vital for all performing artists! Firmly grasping concepts such as beat and rhythm will benefit you even if you are primarily a dancer, in fact you may have seen WAPS dance classes completing similar activities as WAPS music classes, like clapping rhythms, stepping beats, and counting.
4. Be a Multi-Instrumentalist
In music, it's very common for performers to be multi-instrumentalists. Being able to play the guitar and sing at the same time is a fantastic skill and multi-instrumentalists are highly sought after in bands, orchestras, or even in paid solo entertainment spots. If you play the piano, guitar, or another instrument, you have a fantastic opportunity to reinforce your musical training by developing and polishing your vocal technique also. All of our music teachers at WAPS play multiple instruments, including piano, violin, viola, guitar and even the accordion! In fact, students sometimes begin by learning to sing, and then take up a second instrument as well. This is a great strategy as students are already confident with music theory, and can find themselves at an advantage when beginning a new instrument.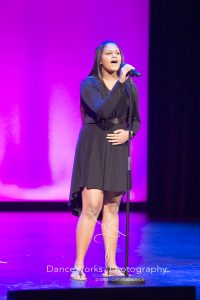 5. Be creative
Just like visual artists can paint or draw to express their emotions, or dancers can perform contemporary choreography to express their feelings or even views on a topic, singing is a method of creative expression. A great outlet for kids and teens, and the chance to explore everything from private emotions to global issues with an audience, singing can be expressive, personal, and challenging. Some of our amazing WAPS students have taken the next step and become singer-songwriters, like Kate B who wrote and performed a song on voice and piano at our 2015 concert – we just know that performers like Kate have a bright future and even potential career path when it comes to singing, playing and performing!
6. Teamwork
Private lessons aren't for everyone. That's why most studios offer group classes or ensembles – this is fantastic for younger students who struggle to focus for a full 30 or 60 minute class, and can experience a musical class filled with games, short activities, and engaging content, whilst still developing extremely advanced aural skills and theoretical knowledge. Group classes are a wonderful and supportive social environment, and great for beginners or singers whose voices are still developing – by removing the pressure of singing alone for another person, group classes can be calming and give a great sense of accomplishment. Group classes are also available at WAPS for advanced level singers.
Our Advanced Singing Troupe gives members the chance to perform in public regularly, and learn repertoire of a higher difficulty – it's important that even if singers learn privately, they gain experience working with others as part of a team.