Tips to Ace Your Next Dance Audition
Going to your first audition? Whether it's an audition for an event or a professional contract, we've got advice to help you feel prepared for the big day. Today's tips are from Miss Lauren, who has successfully auditioned for shows, productions, overseas training and contracts – check them out and let us know if you have more to add!
Check out our top tips to help you feel confident and prepared in a situation that can be daunting at times. Don't fret though, auditions are also fun, and valuable opportunities to improve and learn about yourself as a performer..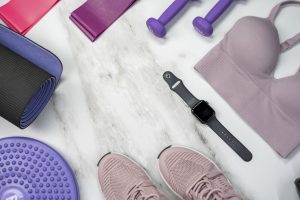 WHAT TO PACK:
Can't think of what to take? You always want enough supplies to last you for a day in case the audition goes for a long time. Here is a list of things to consider packing:
Big bottle of water
CV and pen (always bring a pen because you'll need to fill in forms at some point!)
Headshots (professional is preferred, but just a high quality, well-lit photo from the shoulders up will usually suffice)
Dance shoes depending what style of audition it is
Spare dance gear
Hairspray/pins/brush
Snacks (think foods with slow releasing energy like nuts and fruit)
A couple of makeup products to touch up if necessary
Small sweat towel
Hand sanitiser and deodorant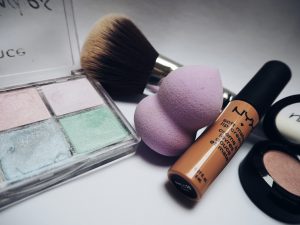 MAKEUP/HAIR:
Once again, this depends on what type of audition you are taking. Some auditions require more makeup than others, but you should never arrive with full stage makeup. This is because the people taking the auditions need to see what you look like properly. A red lip is always good for a cabaret or musical theatre audition but stick to the rule about bold lips and eyes: if one is bold, the other should be more natural, and vice versa. Some auditions might require less makeup, so a simple eye and nude lip is suitable. When it comes to your hair, hair should always be off the face as much as possible, and neat. I recommend the following hair styles:
High ponytail
High bun
Slick low pony/bun
Half up, half down
Side note: keep jewellery to a minimum. Small earrings are okay but don't wear anything else.
WHEN TO ARRIVE:
It is always good to arrive any time between 30 minutes to an hour before. I personally opt for 45 minutes before, so I have time to line up beforehand, get prepared, and warm up. Also if other people have arrived early it is always nice to get to know other people, especially if you are going into the audition alone!
WARMING UP:
Sometimes it's hard in auditions to warm up if the room is full of attendees, but it a necessity because auditions always start pretty full-on straight away. Even if it means you warm up at home thoroughly, wear warm clothes, and keep moving once you arrive, do not skip your warm up. This is another reason to go early, so that there are less people and you have room to move!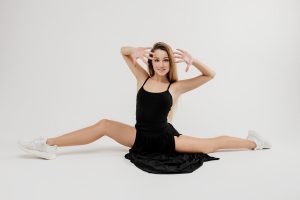 ATTITUDE:
Auditions can be intimidating but you are in control of how you perform in this environment. Always go in well rested, energised and open minded. Positivity radiates from people, and you will stand out if you have a big smile and positive aura. If you keep an open mind about the whole process and have an understanding that if you don't make it through, it's okay, you will have a much more enjoyable time. Besides your dancing and your appearance, they are looking for friendly personalities who will be good to work with – so show off your unique personality!
CHOREOGRAPHY:
Picking up choreography fast is an essential part of auditioning, however don't worry if you make a mistake whilst you are performing – this is human and okay, and they will understand! If you are someone who struggles to pick up choreography fast, take more open classes in all sorts of genres with different teachers prior to taking the audition. This way you can learn multiple different combinations and dances and learn how to pick things up faster. The biggest thing to help yourself is to breathe, and really focus on the counts and how each move connects to the next. As soon as you get 'in your head' and tell yourself you can't do it, your brain will not retain the choreography and it will come true. Always give yourself positive self-talk. You've got this!
OUR BIGGEST TIP FOR AUDITIONS:
It's not the end of the world if you don't get the event or job, the panel already know in their mind exactly what they are looking for and can sometimes pick performers in their heads just by looking at them walking in. Every dancer is completely different and has something unique to offer, yourself included. Always trust the timing of everything, maybe you didn't get the job because a better job is waiting for you just around the corner. Lap up every minute of your audition experience for the next one. Each audition will be easier and easier as you grow more comfortable with the process and subsequently grow as a dancer. You never know what could happen with each audition, one day you will walk out happier than ever!